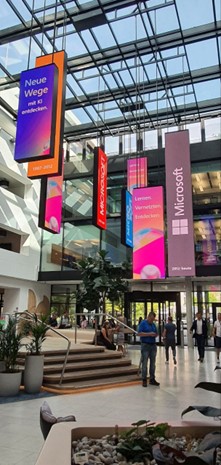 NOVAZOON Insights – Brownbag Session at Microsoft Build Germany 2023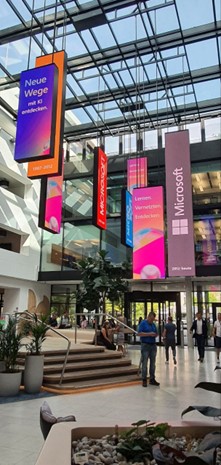 It was a very exciting and inspiring day for our colleagues Marcel Dietz, Florian Balb and Tobias Blattner, who recently visited the Microsoft Build in Munich!
They took away exciting new insights about Microsoft's current technological developments and presented them to our team in a brownbag session.
The event was packed with groundbreaking innovations and technologies that inspired us. Our colleagues shared insights and use cases into some of the many Microsoft products.
The Data-Lake OneLake offers in our technology projects and the users the possibility to store, manage and analyze very large amounts of data efficiently.
Combined with the capabilities of Azure OpenAI, new use cases will emerge on a wide variety of data sources and formats, such as chatbots that are easy for end users to use, to meet individual business transformation needs. With personalized interactions, companies will thus be able to understand their employees' individual requirements even better in the future and offer more effective solutions and processes.
Additional potential lies in the applications of Cognitive Search, an intelligent search for unstructured data sources. This technology gives us access to corporate data of all kinds and structures, enabling us to make informed decisions faster.
At NOVAZOON we attach great importance to the exchange of knowledge within our team. This not only promotes the individual learning process, but also strengthens our skills to develop innovative technological solutions tailored to our customers!
Thanks again to the inspiring exchange, we look forward to more….