NOVAZOON Innovation Day 2023 – open exchange of our community in Karlsruhe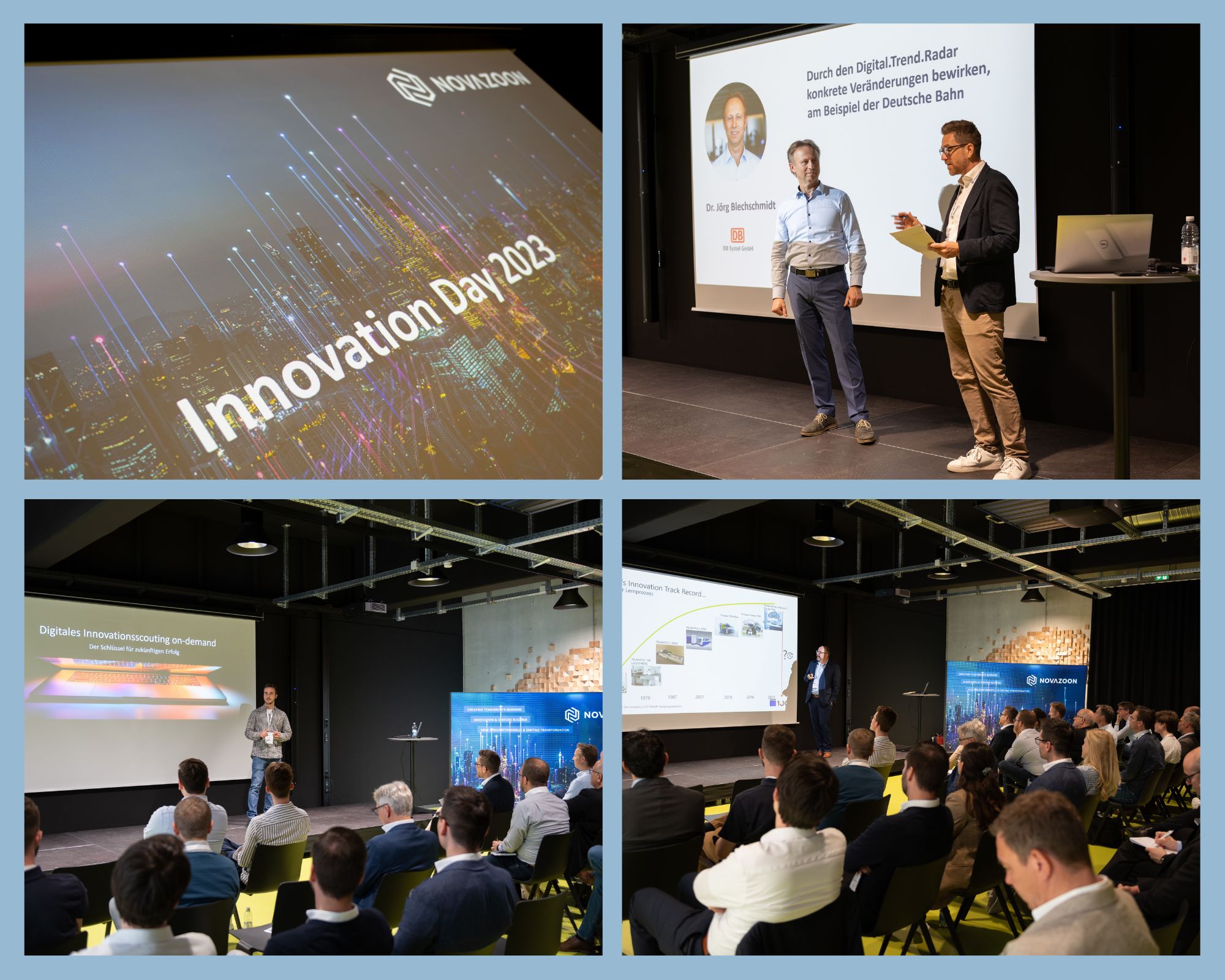 Yesterday, our NOVAZOON Innovation 2023 took place with over 50 participants from the digital economy, high-tech companies, innovative entrepreneurs and forward thinkers. We were guests at the Smart Production Park of the Cyberforum Karlsruhe.
Why are we meeting? Quite simply: to learn from each other, to gain insights into successful transformation examples and to discuss new paths in the companies together. And what better way to learn than from successful companies that are leaders in their industries?
Dr. Jörg Blechschmidt gave us exciting insights into the digital trend radar of DB, Systel using the example of Deutsche Bahn. We were very impressed to see how concrete changes can be brought about in a corporation with a foresight process.
Dr. Tom Schneider, from TRUMPF Machine Tools gave a practical insight into establishing the new TRUMPF business model "Pay-per-Part". Especially the learnings of the business model transformation were valuable for the community, because it is about the servitization of traditional business model patterns of mechanical engineering.
The keynotes were rounded off by Rick Lindner, Pitchload GmbH on "Digital innovation scouting on-demand, the key to future success". We were able to learn from a platform and ecosystem approach how future innovation scouting can be democratized.
We would like to take this opportunity to express our sincere thanks to the speakers. Our community was thrilled with your input!
In the second part of the day, we were able to deepen our knowledge and gain new insights into relevant transformation topics in three different work sessions. For example, our community discussed which aspects of chatbots and AI can be usefully applied in business transformation. "How can the smart servitization of business models succeed as an extension of the core business?" was the content of the second session. As a third focus, we set on the second and third horizon of business models and discussed the question of how we can already smartly prepare the digital future today.
We'll be happy to share deeper insights with you in the coming weeks – stay tuned.
We would like to express our sincere thanks to Cyberforum Karlsruhe for their support in the realization of our event as well as to our outstanding community for their numerous participation and innovative input. This makes you want more!