Health-Tech Venture of NOVAZOON in the press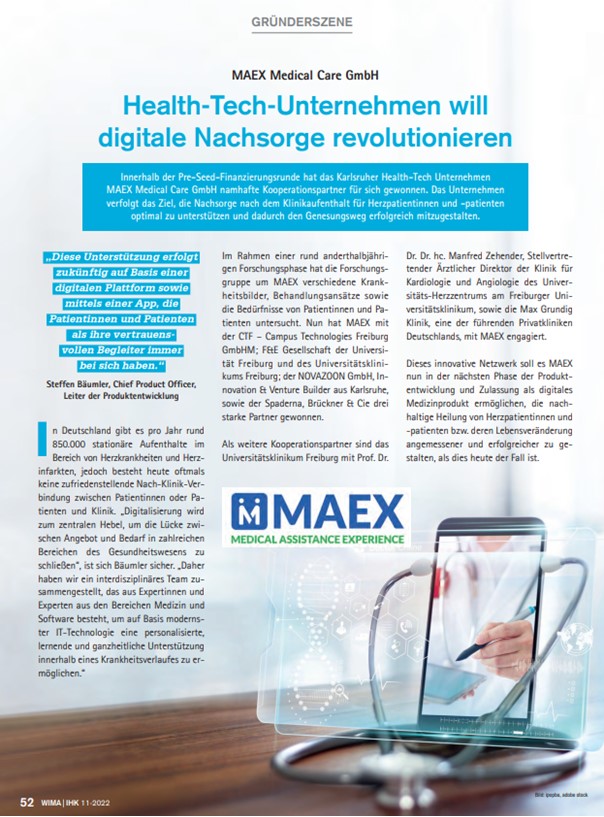 Our joint venture MAEX was presented in the Gründerszene section as an innovative health-tech start-up by the Karlsruhe Chamber of Industry and Commerce.
In the article, the "Purpose" and the vision become clear: MAEX pursues the goal of optimally supporting post-hospital care for cardiac patients and thereby successfully helping to shape the recovery process. In simple words:
MAEX goal is to help people with heart disease live longer and better lives!
This goal is more relevant than ever, because the most common cause of death in Germany is cardiovascular disease. In the future, patients will be accompanied on the basis of a digital platform and with the help of an app. Thus, individual follow-up care can be carried out holistically digitally and make a lasting contribution to the recovery of cardiac patients.
In the first round of financing, MAEX – in addition to NOVAZOON – gained experts in strategic corporate financing in the form of CTF Campus Technologies Freiburg GmbH, R&D company of the University of Freiburg and the University Hospital Freiburg, and Spaderna, Brückner & Cie. Two further cooperation partners are the University Medical Center Freiburg with Prof. Dr. Dr. hc. Manfred Zehender, Deputy Medical Director of the Clinic for Cardiology and Angiology of the University Heart Center at the University Hospital and the Max Grundig Clinic. one of Germany's leading private clinics engaged with MAEX.
Together with the cooperation partners, the MAEX team will now push ahead with product development and seek approval as a medical device.
We are delighted to be a founding partner of MAEX and to contribute to the digital transformation in healthcare
Click here to go to the MAEX LinkedIn channel.
Click here for the article in the IHK magazine
Click here for the press release: Pressbox